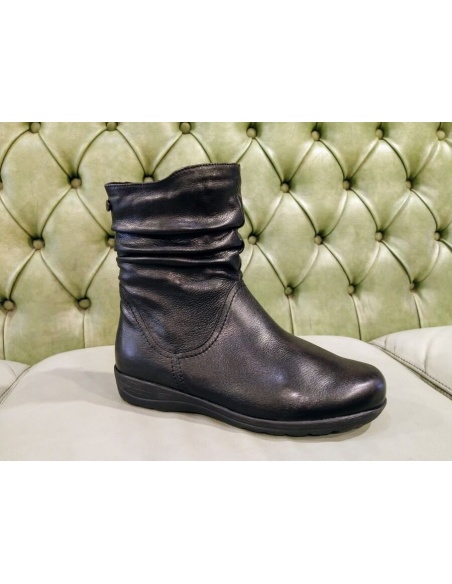 Winter boots in nappa leather
Soft napa leather winter boots, with warm lining in winter fabric. The boots are closed with a zipper on side, they have a comfortable wedge 3.5 cm high. The boots are 19.5 cm high, above the ankle. In genuine high quality leather, they also have a removable insole. Wide shape (H)
Caprice boots, fashion winter 2023-24
100% secure payments
Payment: credit card, PayPal, bank wire (bank wire is available only for European countries)
Delivery times: worldwide between 24 hrs to 10 days, according to the zone. NOTE: for customers outside EU custom duties may apply.
Return: it is allowed within 14 days, and return shipping fees are always on customer, including custom duties. Important: take care in wrapping the shoe box properly. We cannot refund articles that come in a damaged boxes, if the damage is cause by poor wrapping.
For any info, including best size for you, contact us: info@valentinacalzaturefirenze.com.
Returned goods shipping fees are always on customers. Check our policy here
Brand

Caprice

Catch

Zip on side

Heel

3 cm wedge at the back

External material

oft napa leather

Lining

Winter fabric

Sole

Rubber

Fit

Regular
Caprice shoes:
1) Stylish Shoes with an Emphasis on Comfort:
Caprice shoes are designed to meet the demands of modern women who refuse to compromise on either style or comfort. With sleek and contemporary designs, these shoes effortlessly decorate any outfit while keeping your feet happy throughout the day.
2) Incredibly Soft Leather for a Luxurious Feel:
One of the standout features of Caprice shoes is their use of incredibly soft leather. This premium material not only enhances the overall quality but also provides a luxurious feel against your skin. Step into a pair of Caprice shoes, and you'll understand why they're truly in a league of their own.
3) Caprice AirMotion Innovation for Breathability and Support:
Caprice takes comfort to new heights with their innovative AirMotion technology. The breathable and soft insoles offer excellent support to your feet, allowing you to stay on your feet all day without discomfort. Experience the perfect balance of cushioning and ventilation with Caprice AirMotion.
4) Wide Fit (H) for Extra Comfort:

At Valentina shoe store, we understand that comfort comes in all shapes and sizes. That's why many Caprice shoes are available in a wide fit option (H). This generous fit provides more room for your feet, ensuring a comfortable and supportive fit without compromising style.
5) Exceptional Quality at an Affordable Price:
Caprice shoes are synonymous with quality, and yet they offer an accessible price point. You don't have to break the bank to enjoy shoes that are crafted with care and attention to detail. Caprice shoes deliver both in terms of style and value for money.