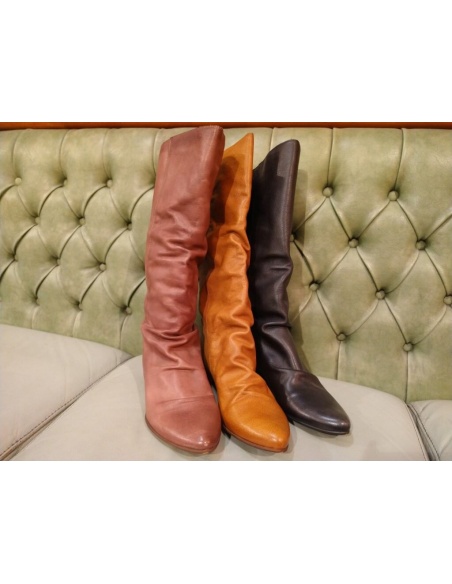 Boots below the knee tall
In soft slouch style, made with very soft calf leather, hand painted. The top of the foot is pointed
Felmini footwear
Payment: credit card, PayPal, bank wire (bank wire is available only for European countries)
Delivery times: worldwide between 24 hrs to 10 days, according to the zone. NOTE: for customers outside EU custom duties may apply.
Return: it is allowed within 14 days, and return shipping fees are always on customer, including custom duties. Important: take care in wrapping the shoe box properly. We cannot refund articles that come in a damaged boxes, if the damage is cause by poor wrapping.
For any info, including best size for you, contact us: info@valentinacalzaturefirenze.com.
Returned goods shipping fees are always on customers. Check our policy here
Brand

Felmini

Heel

2 cm

External material

Leather

Lining

Printed fabric

Sole

Rubber and leather

Fit

Regular
Felmini footwear for ladies
Boots and low boots by Felmini, online store.
Shop Felmini shoes online, fast shipping and delivery everywhere in the world.
For any info just contact us, we will be happy to reply!info@valentinacalzaturefirenze.com
Felmini boots are all hand painted, so that each pair has an unique colour and nuances. Any difference in colour between a single boot and another is something to be cherished, it is not a flaw!
Most of the Felmini boots and low boots are extremely comfortable, other than fashionable and trendy.
Available for shopping online or in Florence at Valentina's
Customers who bought this product also bought: